Comments Off

on My GAIA Retreat & Spa Experience!
Gaia Retreat & Spa, located in the breathtakingly beautiful hinterland of Byron Bay, Australia, (often referred to as the healing capital of Australia), would have to be one of my favourite places on earth. It really is no wonder to me that they won the top award at the 12th annual World Luxury Hotel Awards !

Gaia Retreat & Spa was established in 2005 and continues to shine as one of the country's most authentic, most renowned and most awarded boutique lifestyle pamper retreats.
Gaia's unique wellness & healing ethos has truly set it apart by offering guests total flexibility to personally tailor their retreat experience. Gaia's award-winning Day Spa is "home" to some of Australia's best healers and therapists, with leading wellness consultants, renowned yoga teachers and skilled fitness coaches available to meet the guests every need. Add to this Gaia's highly acclaimed world class spa cuisine, renowned for its melding of delicious and nutritional flavours inspired by international cooking styles, and you have a recipe to delight and seduce not just your palate but all your senses.


DAY 1 – We land in ballina airport where a complimentary chauffeur is awaiting our arrival. After a short 30 minute drive we arrive at the Gaia retreat. From the moment I stepped foot on the land, I instantly knew there was something quite magical about the area.. aside from the breathtaking enchanted gardens that surrounded the retreat, there was a sense of instant calm and peace that washed over me.
I made my way to the reception to notify them of my arrival and was warmly welcomed with some healthy fresh baked muffins, seasonal organic fruit and tea of choice.
Before long we make our way to our room and when we arrive I'm slightly taken back by just how gorgeous it is. I knew it was going to be something special however it truely exceeded my expectations.
After settling in, we decide to walk around the retreat and explore all its Beauty before making our way down to dinner.
Dinner
Dinner was spot on, I requested a plant based meal done gluten free and by speaking from experience, it isn't always easy to get this combo right. The chef must be an absolute genius because his use of herbs, spices and ingredients took my dining experience to a completely new level. I would actually go as far as saying I would return to the retreat just for the food alone haha!!! The dessert was equally as amazing, truely a taste sensation.
Vegan Superfood Salad and the Fig, Pomegranate & Lentil Salad

Almond Butter Ice Cream

Vegan Nori Rolls
DAY 2
I woke up naturally to the sounds of birds chirping and slowly made my way down to breakfast. Yoga is optional before hand however due to a hip injury I gave it a miss.
For breakfast the choices are endless. You can tailor a meal to what ever dietary requirement you have. An organic cold press juice just the way you want it? Whether your vegan, vegetarian, pescatarian.. no request is to much for the staff.
Fresh Cold Pressed Organic Celery & Cucumber Juice

Coconut Milk Latte

My Choices from the array of foods they serve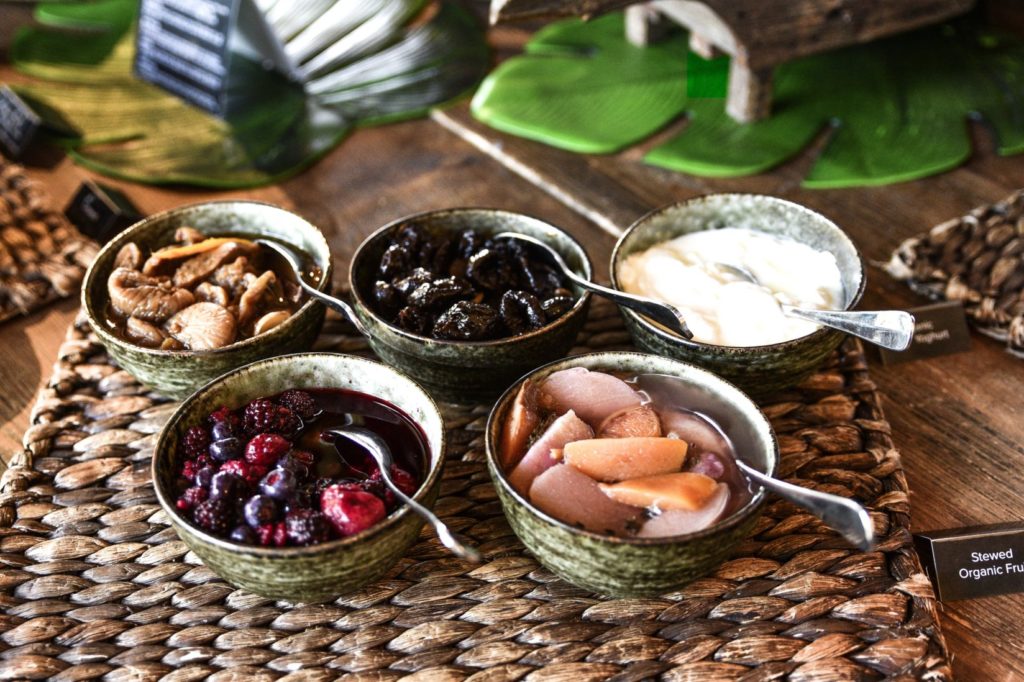 After breakfast we rested a short while then made our way down to the day spa for a facial followed by a massage which was absolutely heavenly. An experience like no other. They bless the room with sage and at the end of your pamper session you are treated to a mini sound healing bath.
Spa Treatments

My travel buddy

The Gorgeous Pool Side Oasis
We spent the rest of the day doing more exploring, taking in the views of the hinterland and being spoilt with even more amazing food at dinner.
DAY 3
Day 3 was a sad day for me, I really didn't want to leave the retreat, I only wished I had booked in a couple more nights if not a week. Im grateful to have even spent 2 nights at GAIA however next visit will definitely be a week so I can fully immerse myself and be open to feeling completely rejuvinated.
It really is an amazing place to simply escape from the perils of new millennium living – a secluded sacred space where you can renew, refresh and restore. The 25-acre property offers 14 treatment rooms, a heated salt water swimming pool, tennis court, hot-tub spa, sauna, steam room, walking tracks and its own organic garden. From the birds in the flowering gardens to the eco-architecture and design, Gaia evokes a sense of peacefulness, tranquillity and belonging.

The beautiful product line available at Gaia that I'm absolutely obsessed with! It's Gaia's very own Retreatment Botanics skincare range and was used during the facial I had whilst at the spa. ) – Available online here >> retreatmentbotanics.com
Gaia Retreat & Spa provides guests a unique and private space to realign themselves physically, spiritually and emotionally: it's about the whole Gaia experience – the staff's exceptional service, nurturing guidance and wisdom along with nourishing, award winning organic cuisine. The dedicated focus on tailored healing treatments in a safe and warm environment completes the story.
Some of the goodies from in the Gaia Boutique
Gaia's dedicated and professional staff will assist you in designing your own personal, purpose driven retreat – whether it is active and energetic, tranquil and serene, or a clever combination of both. Find your core balance with Fitness activities, Tai Chi or morning Yoga, or your inner creativity with an art class.
To Book your Gaia Experience in, head to their website and check out the incredible packages on offer!! Click here >> Retreat details
Jackfruit

Poolside
Gaia is an unpretentious retreat – A place of heart to reconnect with the land and yourself -barefoot meets Armani we like to call it.' Olivia Newton-John